March 2nd, 2018
2018 Spring Schedule Announced
YWRFC is pleased to confirm the 7s schedule for the spring term. First up for Yale will be a fixture at the University of Connecticut. This will be a step into the unknown for both programs as it has been many years since the teams have played each other. The second round of games will be against old friends, Princeton University, in a three-match series in New Jersey. This scrimmage will provide a valuable opportunity for the players to hone their skills as they approach the Ivy 7s Championship the following week, also played at Princeton, on April 14th. The final gameday will coincide with Yale Rugby Weekend, where Yale hosts Fairfield University. On the same day, there will be three men's fixtures, including the men's 1st XV versus Fairfield University.
Coach Wilson, commenting on the schedule, was pleased with the opposition teams, "This spring is an opportunity to play teams outside the Ivy League, whilst still ensuring we play against our college rivals. I am very excited to be taking the team to the University of Connecticut and then hosting Fairfield University. It is important that Yale plays local Connecticut teams in the spring to ensure we are exposed to different types of opposition whilst building strong and meaningful relationships to build collaboration in the future."
---
March 1st, 2018
5 Yalies Make All-Ivy Academic Team
The club is very proud to announce that Mara Hoplamazian '19, Maslen Ward '19, Debbie Dada '21, Michaila "Miki" Cornwell '21 and Amelia Linett '21 have been named in the All-Ivy Academic Team for 2017. In order to qualify, a player must appear in two Ivy Rugby Conference matches and maintain at least a 3.7 GPA. Selections were made by a vote of the 8 coaches of the Ivy Rugby Conference. YWRFC takes great pride in our athletes excelling both on and off the field. You can find the full list of names here.
---
November 20th, 2017
Valuable 7s Scrimmage with Southern

On a freezing Friday evening in New Haven, Yale and Southern competed in two 7s matches to round out the Fall season. This was a valuable experience for Yale's young team, as many players were playing 7s for the first time. The team will now turn its attention to skill development and strength and conditioning during the winter months.
Game 1: Yale 12 Southern 20
Game 2 Yale 17 Southern 17
Check out Yale's highlights!
---
13th, 2017
7s Matches To Finish Fall Season
To end a successful Fall season, Yale will be playing local rivals, Southern Connecticut University in two 7s matches on Friday 17th November, at Yale. This is an opportunity for the team to switch focus to the shorter format of rugby in preparation for the Spring 7s season. The games will be played under the lights and will be followed by the men taking on Harvard for their final xv's match of the season.
5.45pm: Yale vs Southern (Game 1)
6.15pm: Yale vs Southern (Game 2)
7.00pm: Yale Men vs Harvard Men (xv's)
---
October 30th, 2017
Yale Denied Championship By One Point
Undefeated Yale traveled to Penn (5-1) last Saturday in a game that would decide the championship. Yale needed one bonus point (scoring four tries or finishing within seven points of the opposition) to secure the championship. Penn needed to win by more than 7 points and score four tries. In the previous encounter, Yale took the victory 38-27.
Yale was unable to secure a losing bonus point in a 59-17 loss to Penn resulting in the team missing out on the Championship. Yale scored three tries, but a fourth was cruelly disallowed which denied Yale the vital bonus point. Yale, who had not played since September 30th due to forfeits from both Columbia and Cornell, was off the pace from the outset. A battle-hardened Penn team capitalized on some weak Yale defense to open up the lead which they never surrendered. Yale did fight back and looked threatening once they started to maintain possession. However, despite Yale's best efforts, the team could not find their way over the Penn line for the fourth try.
Although the team is disappointed, the season was a huge success. Yale finished 5-1 overall and introduced over 10 new players to rugby. The team now turns its attention to 7s.
Yale Scorers:
Ronnie Rodriguez '21 (2T), Genevieve Simmons '18 (1T ), Elisia Cabello-Countryman '18 (1C)
---
October 18th, 2017
Coach Corey Heads To Dubai 7s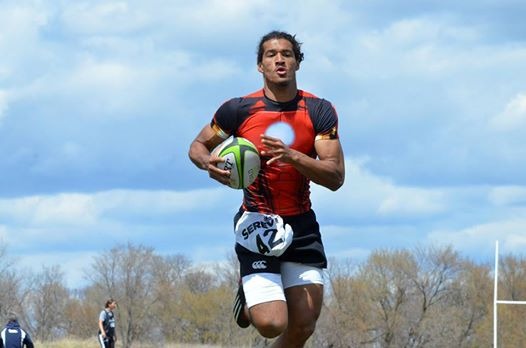 Assistant Coach, Corey Jones, will represent the Kukri Cobras in the men's elite competition that runs parallel to the HSBC World Series 7s event at the famous Dubai 7s. The Kukri Cobra Select will feature a number of players from the Northeast Academy as well as other U.S. programs. The team will play talented opposition including national teams from Belgium, Germany, Ireland, and Georgia, and developmental teams from Germany, France, and Canada.

Coach Corey, when asked about the trip commented, "I am excited to head to Dubai with the Kukri Cobras and compete against some of the best up and coming 7s players in the world. This is the next step towards becoming an Eagle." Speaking on behalf of the team, Coach Wilson added, "I am so pleased to hear about Corey's selection. He has added so much to the program already through his enthusiasm and energy. He is a great role model for the players and I wish him all the best with the trip."
Players: Corey Jones, Devereaux Ferris, Quaadir Brown, Jared Collinson, Chris Frazier, Chris Mattina, Harry Higgins, Robbie Butcher, Nick Laws, Andrew Murray, Wesley Pooley, Ryno Benjamin.
Competing teams: Abu Dhabi Harlequins, Free Sevens, SA 7s Academy, The Royals, Monaco Invitational, Canada Maple Leafs, Zambia, Belgium, France Development, Froggies, Germany Development, Germany, Ireland, Old Georgians, Georgia 7s

Article adapted from www.thisisamericanrugby.com
---
October 13th, 2017
Cornell Forfeit Match With Yale
Sunday's fixture has been canceled due to Cornell being unable to field a full team. Although disappointed not to play, Yale will take the opportunity to focus on training in preparation for Penn, away, October 28th. Yale receives an automatic 28-0 victory, and 5 conference points.
---
October 11th, 2017
Alum of The Week
Mary Cardoza (Class of 1983) played Prop for Yale after rowing her freshman year. She went out for the team and "fell head over heels in love with the sport." After playing for YWRFC her remaining three years, Mary played for UCLA during her first two years of med school.
Mary's favorite memory was playing up at Dartmouth while it was snowing. She wonders what it's like not to have a keg on the sidelines. As a General Surgeon, Mary believes that toughness was the most important thing rugby taught her: "I'm not sure that I would have been able to put up with the rigors of my training and the constant message that maybe I shouldn't be doing a man's job if I hadn't played rugby."
Rugby was one of the highlights of Mary's time at Yale, and we're so excited to collaborate with her for the upcoming YWRFC history exhibit!
---
October 6th, 2017
Columbia Forfeit Match With Yale
Sunday's fixture has been canceled due to Columbia being unable to field a full team. Although disappointed not to play, Yale will take the opportunity to focus on training in preparation for Cornell, who visit New Haven on Sunday, October 15th. Yale receives an automatic 28-0 victory, and 5 conference points.
---
October 5th, 2017
'The Rugby Breakdown' Yale Feature
Yale sits atop the Ivy Club standings, but the team has faced plenty of resistance during its 3-0 fall thus far. The Bulldogs outscored two opponents by one try each (with conversions pushing the point differential), and the team expects an equal amount of pressure in round two.
Yale began to recenter itself in fall 2015, when new head coach Craig Wilson relocated from Hong Kong, where he was involved with the national U14-U20 age grade teams, to New Haven, Conn. He joined a women's program that hadn't won an Ivy 15s game in three years.
"Upon arrival at Yale, it was clear that the team, for all their endeavors, lacked direction and had low numbers," Wilson recalled those early days. "I prioritized creating a compelling and attractive vision for the players to work towards. We shifted the mindset to focusing on the details we could control, such as the importance of hard work, increasing fitness levels and having fun. On top of that, I developed their rugby IQ by introducing tactical play supported with using video analysis and increasing the amount of rugby the team watched."
A foundation had been re-established, and Yale went 5-2 that season to win the Ivy Club division.
This year's team is of modest size - 24 registered players - but it's the youth of the squad that draws interest. Fourteen are rookies and four players are in their second season of rugby.
"The new players have certainly added to our overall athleticism, which is a core focus of the program," Wilson indicated. "We unfortunately lost both our captains to injury in the first game of the season, but this has created an opportunity for the other players to step up and lead. I am excited to see the progress of this group, which has huge potential."
The team started the fall with a 74-15 win over Columbia, followed by a 36-25 victory over Cornell, and then defeated Penn 38-27 last weekend. Penn sits in second place thanks to a 26-17 season-opening win over Cornell.
"Penn are well coached and have some talented players," Wilson reflected on the team's latest outing. "I believe our willingness to keep working hard to the final whistle was the difference in a very close game. We will have to go up another level if we are going to beat them again, especially away from home."
Genevieve Simmons leads all points scorers with 36 on four tries and eight conversions, while Elisia Ceballo-Countryman is close behind with 28 (4T, 4C). Ann Chia, Debbie Dada and Veronica Rodriguez have contributed three tries apiece this season, and Fatemeh Mojarradi and Sophie Freeman have crossed the try line twice each.
Columbia forfeited this weekend's match, and so Yale will resume play on Oct. 14 against the traditionally tough Cornell. Yale will then face Penn on Oct. 28 to end the season, and final standings will name league champion. A challenge match will then ensue between the Ivy Club champion and fourth-place team in the Ivy League (Brown, Dartmouth, Harvard and Princeton) for promotion/relegation in fall 2018. Additionally, a new initiative will see the Ivy Club champion compete in the USA Rugby DII playoffs this fall.
News courtesy of www.therugbybreakdown.com
---
October 1st, 2017
Yale Defeats Penn To Go 3-0
Yale maintained their perfect start to the season with a hard-fought 38-27 victory over second-placed Penn. Both teams were intent on attacking from all areas of the pitch, in difficult windy conditions, but it was Yale who had more in the tank in this thrilling encounter. Yale now turns their attention to Columbia, who travel to Yale on Sunday, October 8th.
Points Scorers:
Elisia Cabello-Countryman '18 (1T and 2C), Ronnie Rodriguez '21 (1T), Genevieve Simmons '18 (3T and 1C), Penalty Try

---
September 24th, 2017
Yale Down Big Red in Ithaca
Yale goes two from two on the road after defeating Cornell 36-25. Playing Cornell is always a difficult task due to their physicality, but Yale brought their own high-intensity levels, particularly in the last 15 minutes of the game to secure the win. Yale started the strongest and maintained a lead that was not to be surrendered. Cornell did get within striking distance on the 60-minute mark, only for Yale to re-group and pull away to victory. The team now heads back to New Haven to take on second-place Penn on Saturday, September 30th, 4.00pm.
Points Scorers:
Elisia Cabello-Countryman '18 (1T and 1C), Ronnie Rodriguez '21 (1T), Genevieve Simmons '18 (1T and 2C), Sana Mojarrdi 19' (1T), Ann Chia 18' (1T) and Sophie Freeman '18 (1T).
Hear from First-Year, Ronnie Rodriquez, who has now scored two tries in their first two games of rugby:
---
September 19th, 2017
Yale Dominate Columbia in Ivy Opener
Yale started the Ivy Season with a convincing 75-15 win over Columbia, scoring 11 tires and 6 conversions. The team consisted of nine new players. Yale now turn their attention to the away trip at Cornell on Saturday, September 23rd.
Points Scorers:
Debbie Dada '21 (3T), Genevieve Simmons '18 (2T and 4C), Elisia Cabello-Countryman '18 (2T and 2C), SGH (1T), Ann Chia 18' (1T), Khaya Klanot '20 (1T), Mara Hoplamazian '20 (1T), Ronnie Rodriguez '21 (1T).
Hear from Genevieve Simmons, who scored 18 points in her first ever rugby game:
---
April 28th, 2017
2017/18 Season Committee Announcement
The committee for the 2017/18 season has been selected by the current players. Team Captains will be SGH '19 and Reanna Wauer '20. Khaya Klanot '20 will take over as Treasurer, with Isabel Gonzalez '20 and Mara Hoplamazian '20 becoming Recruitment Chairs. Abagail Davis '19 and Kellyn Kusyk '20 will be Social Chairs. In a newly created role, Lola Hourihane '20 and Isabel Salinas-Arreola '20 will be Tour Managers.
SGH, commenting on their new role as Captain enthused, "I'm so excited to work with Reanna to lead this team I care so much about." Reanna added, "I look forward to helping develop and support our young team and to share this incredible sport with others."
When the committee members were announced, Coach Wilson was delighted with the appointed roles. Coach Wilson commented, "Our main aim for the program is to develop players to become world-class leaders. I see so much potential in this group and I am pleased to see young players taking on leadership roles. The majority of this committee still has three years of involvement with the team and it is going to be a pleasure watching their off-field development. I know this committee will drive standards, give 100% effort and will be determined to enhance the experience of all YWRFC members".
The program would like to thank out-going committee members, Lily Wu '19, Nat Wyatt '18, Emma Goldrick '17, and Michelle Jones '19 for their efforts throughout the season.
---
April 24th, 2017
Yale Rugby Weekend 2017
Over the weekend of April 21-22, Yale Rugby hosted the annual Rugby Weekend. The celebrations brought together the current undergraduate players, former players, coaches, parents and all friends of Yale Rugby. The busy weekend comprised of a golf tournament, a welcome dinner, three games of rugby and concluded in a spectacular gala dinner and awards evening.
On Saturday afternoon, YWRFC undergraduates and past players played in a combined rugby match. The match was hotly contested with the alumni, many of whom are still active players, demonstrating their high skill level and the undergraduates fiercely defending the pride of the program's new era.
The final event of the weekend was the gala dinner and awards evening held at Commons, right in the heart of Yale. The evening was an opportunity for former players and the current playing group to share stories and socialize. The highlight of the evening was the player end of season awards as well as an opportunity to thank the outgoing seniors.
Yale Women's Rugby Football Club would like to thank all that attended the very special weekend.
2016/17 Player Awards

Player Of The Year: Lilium Wu (Class of 2019)
Rookie Of The Year: Reanna Waurer (Class of 2020)
Teammate Of The Year: Lilium Wu (Class of 2019) & SGH (Class Of 2019)
---
April 11th, 2017
Boston University Win Yale Sevens
On a sunny day in New Haven that was perfect for rugby sevens, it was Boston University (BU) who won the second annual Yale Sevens. The path to victory was not without error, with BU's Boston rivals, Northeastern, winning the match between the two in pool play. BU recovered well with two victories over University of Massachusetts (UMass) and Yale respectively to set up the championship decider, and re-match, with Northeastern. The clash between the two Boston powerhouses lived up to the billing, and this time it was BU who took the win.
Yale finished the day 1-3, with their victory over UMass coming in the opening game of the tournament. Yale's young team played some fantastic rugby throughout the tournament and gained valuable experience against strong programs. You can view Yale's highlights below.
---
April 6th, 2017
Yale Sevens 2017
Yale Women's Rugby is excited to host the second annual Yale Seven's tournament on Saturday, April 8th. This year's tournament will see the University of Massachusetts defending the title they won in 2016. Northeastern will be returning for the second year and Boston University will make their first appearance at the tournament. To support the main tournament, there will also be B-Team matches that will be used to develop players. The format will see each team playing each other once, with the top two teams in the final standings advancing to the championship match.

All matches will be played at Yale University rugby field, located at 70 Central Avenue, New Haven. Entry is free.
---
March 24th, 2017
Coach Wilson To Support USA Women's Eagles
Yale's Head Coach, Craig Wilson, will be joining up with the USA Women's Eagles National Team for their two-test series with Canada in San Diego. The series is a crucial part of the squad's preparation for the Women's Rugby World Cup being held in Dublin this August. The USA are set to play England, Italy, and Spain in pool play. Coach Wilson will work directly with the analysis team where he will provide match data and player information to Pete Steinburg (Head Coach), Richie Walker (Attack Coach and USA 7s Head Coach), and Liz Kirk (Forwards Coach and former Eagle).

Coach Wilson, who is currently a member of the USA Rugby's Elite Coach Development Program, is excited to link up with the team, "This is a very exciting time for the national team as they prepare for the World Cup. Along with the Olympics, the World Cup is the pinnacle of the game. This CanAm series is a significant step towards ensuring a successful World Cup performance." When commenting on his role, Coach Wilson continued, "My main role is to work with the analysis team, headed by Caitlin Singletary, to provide the coaches with all the information they need to prepare the team effectively. Each practice and match are recorded and analyzed to ensure that there is no stone left unturned."
This is Coach Wilson's first assembly with the full national team, but he will utilize his experience as a player in international environments with Hong Kong, as well as coaching at four U20 Asian Championships and two U20 Junior World Trophies. Coach Wilson commented, "International assemblies are very intense with very little downtime. I really enjoy immersing myself in the environment and playing my part in making the team successful. It will be an honor to experience the USA Women's Eagles environment for the first time."
Coach Wilson also thanked Yale Rugby for their support, "There really is something special building with both the Yale Women's and Men's programs. To work directly with Greg McWilliams on a daily basis, along with the impressive board and other staff members, has been instrumental in my development as a coach. I am excited to return to Yale after the CanAm series and use the experience to improve my team."
USA are set to play Canada on Tuesday, March 28th and Saturday, April 1st at the Chula Vista Elite Training Center, San Diego.
---
Feb 9th, 2017
Mission Statement Announced

The program is delighted to announce the formation of a new mission statement, 'Creating World Class Leaders By Being World Class Teammates'. The mission statement emphasizes that student-athletes in the program will diligently work towards being the best teammate they can by adopting core values such as: selflessness, fulfilling any role required, giving maximum effort all the time, being relentless in finding ways to improve, being positive, not using excuses and having fun. Our vision as a program is to develop true leaders that, upon graduating from Yale, create positive change in their chosen field.
Coach Wilson believes the mission statement clearly outlines positive goals that all involved with the program can work towards, "This mission statement will be the foundation of everything we do. It will be our roadmap for continued improvement. It also provides clarity of what our program stands for. For new players, it explicitly states what our expectations are. It will be something all stakeholders will value, live by and reinforce regardless of performance outcome."

The team is currently preparing for the spring 7s season, with the finalized schedule being announced shortly.
---
Jan 17th, 2017
Players Return As Spring Semester Commences
After the festive break, the team will embark on a winter training schedule focusing on skill development, strength and conditioning, rugby education and team bonding. Commenting on the schedule, Coach Wilson noted, "The next two months are where a great deal of individual and team development takes place. As there is no pressure of preparing the team to play competitive matches, the environment is built upon developing technique and skill in a much more detailed way."
As well as on-field development, the team will work with new strength coach Steve Volek. Coach Volek, who also leads Yale Hockey's strength program, will be working in rugby for the first time but is excited at the new challenge. "I've watched rugby on TV and it's a very exciting and physical sport. The game necessitates that players are physically in good condition and I look forward to working with the team to ensure the demands of the game are met," he commented. Coach Volek's first involvement will be leading a series of tests to gauge the teams current strength levels which will be used as a benchmark for future testing.
---
Jan 5th, 2017
Coach Wilson Returns From Eagles National All-Star Camp
Over the New Year, Coach Wilson spent time with the Women's Eagles national coaches as part of the Elite Coach Development Program. His role at the camp was to work with the players as they start their preparation for the Rugby World Cup being held in Dublin in August. Commenting on the camp, he stated, "It was a great experience to be working with the best players and coaches in the US. I gained valuable experience in preparing a team for international competition with limited time. This is different from my day-to-day role at Yale where I have more time to develop the players," Coach Wilson added, "I am also proud that Yale is now being recognized nationally. The program has seen a huge rise over the last 18 months and I have no doubt that we will soon start producing players for the US national team."
The team returns to Yale on January 16th, where they will be focusing on strength and conditioning as well as skill development.
---
Nov 7th, 2016

Young Yale Go Down to Penn
In the final game of the Fall season, Yale lost to a determined Penn team 47-17. Yale's squad consisted of just two seniors and two juniors with the remainder of the team made up of lower classmen. Despite the loss, Coach Wilson was happy with the progress the team has made, "The game was a great opportunity for our 11 rookies on the field to fine-tune their accuracy and learn from mistakes. The Fall has been a re-building season for the program and I am pleased with how this young team is developing. An example of our progress can be seen in the leadership of our sophomores Lily Wu, SGH and Michelle Jones. All of their performance levels have increased significantly and this gives great confidence and motivation for our large group of freshmen." When asked about training over the winter months, Coach Wilson commented, "This is the time we can get into detailed individual skill development as well as an intense focus on strength and conditioning. Another key focus will be developing each player's video analysis skills so they can critically analyze their own performance and overall game understanding."
Video highlights of Yale's tries can be found below. Tries scored by Jessica Alzamora '18, Carlin Zia '17 and Michelle Jones '19.

---
Oct 25th, 2016
Yale Host Columbia in Tier 2 Semi Final
Yale (2-2) finished in second place in Tier 2 of the Ivy Championships which was enough to secure home advantage against third placed Columbia (1-3). In the last outing between the teams, Yale won a close fought match 32-22. After a bruising encounter with Brown in Yale's last match, the team will be excited for the opportunity to play in front of home support. In the other semi final, Cornell (3-1) host Penn (0-4).
---
---
October 3rd, 2016
Yale Secure Victory Over University of Pennsylvania
From start to finish, Yale controlled possession in the game and earned a well deserved win on their return to New Haven after two road trips. In the week leading up to the fixture, Yale focused on retainment of possession as this was an area that needed improvement from the Cornell game one week before. Yale launched attack after attack but credit must go to the University of Pennsylvania (UPenn) defense as they stayed strong and rebutted Yale's efforts. Against the run of play, a turnover ball on Yale's attack led to a breakaway try from UPenn which was converted. Yale re-grouped and took control of the game. The pressure eventually lead to Yale scoring three tries through Michelle Jones '19, Rachel Perler '17 and Angela Henderson '17 despite some ferocious tackling from the opposition UPenn managed to score a second try against the run of play to leave the score at half time 19-17.
In the second half, Yale again took control of possession and kept UPenn under immense pressure. As the game wore on, and UPenn's tackle count mounted, Yale found more scoring opportunities that led to tries from Emma Goldrick '17, SGH '19 with Rachel Perler '17 and Michelle Jones '19 adding to their earlier scores from the first half. UPenn scored a consolation try to leave the final score 43-17 to Yale.
Yale now head into an off-week and will begin preparation for varsity rivals Brown on October 15th in New Haven.
---
September 29th, 2016
Yale Return Home For Ivy Conference Clash
For the first time this season, YWRFC take home field advantage as they host University of Pennsylvania. The 21 player squad will be looking to use the lessons that they learned from the previous week against Cornell and put in a good performance. Although the opposition has a 0-2 record so far this season, the team will not be taking the opposition lightly and are well aware of the task that faces them on Sunday. Coach Wilson commented, "We fully respect University of Pennsylvania as their program is in a very similar position to ours. They have a very young team with some seasoned veterans. From last year's experience, University of Pennsylvania boast some talented players that like to run hard. We will have to work as a team in defense to nullify these threats then look to get into our attacking shape once the opportunity arrises. This week provides another opportunity for the players to develop as individuals as well as a team."
Date- Sunday October 2nd
Kick Off- Noon
Venue- Yale Intramural Fields (70 Central Avenue, New Haven, CT 06515)
---
September 25th, 2016
Experienced Cornell Defeat Yale
Yale took the long trip north to take on Cornell in Round 2 of the Ivy Conference. Cornell's experienced players took control of the game from the outset and took full advantage of missed tackles and raced into an early lead. The first half consisted of Yale working into phase play but were undone by errors that resulted in turnover ball. Cornell quickly retrieved the ball and scored numerous breakaway tries. When Yale did maintain possession, they put Cornell under pressure which eventually resulted in Angela Henderson '17 pulling back two tries.

The second half had a similar theme to the first half, with Yale creating good opportunities but ultimately losing possession deep in Cornell's half. This allowed Cornell's strike runners, notably their fly half, inside center and left wing, to break away for easy scores. Although losing possession hampered Yale's attack, the team can take pride in continuing to stick to their game plan and manufacture scoring opportunities. After a series of phases deep in Cornell's half, Eli Ceballo-Countryman '18 broke through the line to score under the posts. Yale did not leave Cornell empty handed as rookie Reanna Waurer '20 powered over the line to score her first try for Yale and also secured a 4-try bonus point. Final score: Cornell 69 - Yale 24.
After two away games, Yale now look forward to playing at home for the first time this season where they take on University of Pennsylvania on Sunday, September 2nd, noon kick off.
---
Yale Head to Cornell For Ivy Clash

In recent years, a Yale/Cornell fixture has been a close fought match. Both teams are heading into the game with Round 1 victories which sets up a mouth-watering clash. Kick off is scheduled for 10.30am in Ithaca, NY and you can follow the match via our twitter page https://twitter.com/yalewomensrugby.
---
September 19th, 2016
Michelle Jones Steals The Show With Four Tries
A slow start by Yale allowed Columbia to take the initiative in a bruising encounter at Kraft Field, NYC. From the outset, Columbia used their big forwards to apply continuous pressure on the Yale line. The pressure eventually was too much for Yale to handle with Columbia rumbling over the try line from close range on two separate occasions leaving Yale 10 points behind in the early exchanges.
Yale, playing four new rookies in the starting lineup and a further two on the bench, soon found their rhythm and started to maintain possession. As the phase count grew, Columbia's defense became more disorganized. Eli Ceballo-Countryman '18 seized the opportunity and ran into a gap out wide. A clever switch play with Michelle Jones '19 fooled the defense with Michelle scoring Yale's first try of the day. 10 - 5 to Columbia.
Columbia managed to re-gain the ascendancy with a similar try to the previous two. A series of close range attacks at the line, and a few missed tackles from Yale, allowed Columbia to bulldoze over to bring the score to 15-5 to Columbia. The score remained the same until half-time.
The half-time talk consisted of tightening up the defense to nullify Columbia's big running forwards. This shift in tactics allowed Yale to gain parity in the match and resulted in turnover ball.This allowed Yale to control the pace of the game and allow their fast runners to become more effective. The 20 minute period after half-time was a crucial turning point in the game with Yale dominating possession. In this time, Michelle crossed the line twice more to secure a hat-trick of tries and Eli Ceballo-Countryman added one more. The score was now 22-15 to Yale.
Columbia managed to strike back once again from close range through their large forwards and they also added a successful conversion to bring the points level to 22-22. Despite the score, Yale were in a confident mood as they entered the last 15 minutes of the game. As Columbia's bigger forwards were starting to tire, Yale upped the pace in attack and launched a series of attacks from all over the pitch.
The moment of the day came when freshmen Isabel Salinas-Arreolas, playing her first ever game, was put into space on the right wing by scrum-half SGH. Isabel made light work of the defender and powered into space. Isabel, with defenders desperately chasing her, shrugged off the last ditch effort from a tackler to dive in and score her first ever try to the delight of her team mates. Columbia 22 - Yale 27.
As the game neared the end, and with Yale dictating the pace of the game, the team launched their final attack. After multiple phases of play that combined strong running and slick passing, the ball eventually arrived in Michelle's hands for the last time. With confidence sky-high, Michelle took on Columbia's defenders and raced away to score her fourth try of the day. Final score 22-32 to Yale.
Yale travel to Ithaca this Saturday to take on Cornell. Yale defeated Cornell in the Ivy Plate Championship match last fall and with Cornell coming off a victory over University of Pennsylvania in Week 1, this match-up is set to be a classic.
---
September 15th, 2016

2016/17 Ivy Conference Opener at Columbia
The team travel to New York City this weekend to take on Columbia University in the opening fixture of the Ivy Conference. Last season, Yale defeated Columbia 22-5 in a tough match. Coach Wilson is expecting nothing different this weekend, "Columbia have some very physical players and like to carry the ball. I'm expecting them to come out firing as they look to use their home field advantage." Coach Wilson also commented on his own team's chances, "I like where we currently are. We have had an influx of new players, particularly freshmen, which is great news. My aim this weekend is to introduce the new players to rugby and build steadily for the future. It is important to me that the new players get to experience rugby without the pressure of winning. We have a few technical and tactical processes we will look to execute but my main priority is for the team to have fun, enjoy working hard and building camaraderie with each other."
This match will see nine rookies, including seven freshmen (Alexus Coney, Anna McNeil, Isabel Salinas-Arreola, Khaya Klanot, Mara Hoplamazian, Reanna Wauer and Vanessa Liu) and two sophomores (Abagail Davis and Mariel Rosenburg). Nat Wyatt '18 will be leading the team for the first time and cannot wait to get going, "I am very excited and proud to be captaining the team. I will aim to lead the team through my actions both on and off the pitch. Everyone will be nervous, especially the rookies, so it is my job alongside Junior Captain Lily Wu '19 and the other veterans to keep everyone at ease and make sure that they enjoy the experience." When commenting on the new rookies, Lily added, "They have brought such good energy to the team! They have fitted in really well and shown great determination to learn a new game. The future is bright with these new players and the first step of the journey starts on Sunday!"
Date- Sunday September 18th
Venue- Kraft Field, Baker Complex, Columbia University
Kick Off- 5.15PM
---
September 11th, 2016
New Players Introduced to YWRFC
From left to right: Alexus '20, Vanessa '20, Mariel '19, Anna '20, Reanna '20, Abagail '19, Jessica '20

Yale took on local neighbors University of New Haven in a pre-season match at Yale Rugby Field. Both teams used this game to gain valuable playing experience before they compete in regular season action in their respective conferences. Yale took this opportunity to play six new players from the outset. The match was evenly contested with Yale showing great courage in defense to hold out an experienced UNH team for long periods of time. Eventually the deadlock was broken with UNH bulldozing over the Yale line. This score was followed by a clean line-break by UNH's outside center that led to another try. Yale responded well with a great individual try by Michelle Jones who fielded a kick and split through the defense to score her first try of the year. Despite Yale's valiant defense, UNH used their power and experience to rumble over for two more tries from close range. In the final quarter of the game, Yale became much more settled in attack and scored three unanswered tries to leave the final score 31-20 to UNH.

The game proved a valuable learning experience for Yale's rookies who now have the experience of playing in their first game. Each new player grew with confidence as the game progressed and this bodes well for the future. The team now turns its attention to the Ivy Conference where they take on Columbia next Sunday evening.
Yale's tries can be viewed below.
---
September 4th, 2016
Lauren Szmak Joins Team as Physical Therapist and Trainer
Yale Rugby has worked tirelessly over the summer months to ensure the welfare of the players takes precedent for the 2016/17 season. Alongside access to strength and conditioning programs within the varsity weights room, led by Mike Harris, the program now boasts a physical therapist and trainer for the 2016/17 season. Lauren Szmak will be at practice sessions and every match to ensure our players have quality medical care throughout the season. In addition, there will be an emergency team pitch-side for precautionary measures.

In May 2014, Lauren graduated from Quinnipiac University with a Baccalaureate Degree in Athletic Training and Sports Medicine. She is currently enrolled in her third year of Quinnipiac University's graduate level Doctorate in Physical Therapy program. The highlight of her experience has been working with a great range of athletes both through employment and her undergraduate clinical rotations.
In addition to her new position with YWRFC, she is also a Part-Time Athletic Trainer at Lyman Hall High School in Wallingford and is responsible for the general wellness and medical care of over 20 interscholastic teams. During her undergraduate rotations, she had the pleasure of working with high caliber athletic populations such as the 2013 MAAC Field Hockey Champions, Yale Women's Lacrosse Team and Track and Field Teams, Quinnipiac University Men's Ice Hockey Team, and Holy Cross College Football Team.
When asked to comment on joining YWRFC, Lauren enthused, "I am very honored and excited to begin this opportunity to work with a dedicated, elite group of athletes and coaches." On Lauren's addition to the team, Coach Wilson commented, "Player welfare has been top of our agenda and it is really pleasing to secure a trainer of Lauren's caliber. Her experience in team environments and her professional knowledge will allow her to fit seamlessly into our environment. Along with the acquisition of S&C coach Mike, I believe that our backroom team will compliment each other nicely to ensure the safest possible experience for our players."
Lauren will be linking up with the team on September 18th for the away trip to Columbia.

---
August 29th, 2016
Strength and Conditioning Coach Mike Harris Joins YWRFC
YWRFC is pleased to announce that Mike Harris will be joining the coaching staff as Strength and Conditioning Director. Mike, now in his fourth year at Yale, has worked with All-Ivy athletes, National Team and National Junior Team members, NCAA Division I qualifiers, men's basketball Ivy League champions, and an NFL-bound football player. Mike will use his extensive experience to prepare the players for the physical demands of rugby. This will include programing and management of lifting and conditioning sessions, development of recovery protocols and nutritional advice. When asked about the role, Mike commented, "I am very excited to work with the women's rugby team. Each individual on the team has huge potential to develop physically and with the right application they will soon see positive results. Rugby is a growing sport in the US and it will be fun having a more active role in the game." When asked about Mike's addition to the team, Coach Wilson was delighted to acquire his services, " I couldn't be happier! This is a huge gain for YWRFC as Mike is one of the leading S&C coaches in the region. With Mike's work and the players' commitment, the team will be much more athletic and that will compliment our high-tempo game plan."
The team are currently in pre-season and are preparing for a scrimmage against local rivals, University of New Haven, on September 10th at Yale Intramural Fields, 10am KO.
---
August 23rd, 2016
Fixture Date Change- University of Pennsylvania
The originally scheduled fixture between Yale and University of Pennsylvania has been moved forward and will now be played on Sunday October 2nd at Yale.
---
August 15th, 2016
Off the Pitch- Rachel Solo Hikes Appalachian Trail
'I spent the first part of the summer solo-hiking the 105-mile stretch of the Appalachian Trail that runs through Shenandoah National Park. Before that I had never gone backpacking alone so it was quite the learning experience. I had a great time getting to know the thru-hikers who are on their way to finishing the entire AT and spending some quality time with the breathtaking wildlife of the Blue Ridge Mountains (including three bears!). I also went over a week without showering and subsisted mostly on peanut butter and tortillas. Despite the blisters, I had an amazing time and averaged 16 miles a day, so I think it counts as summer fitness.'

---
August 11th, 2016
Off the Pitch- Alina's Turkish Experience
Last years co-captain, Alina Yaman, shares their experiences with family, culture and friendship whilst in Istanbul, Turkey.

This summer, I took a 7 week long language course to improve my Turkish in Istanbul. On the weekends, I slept over at my aunt's or grandma's house, and throughout the week I studied, toured around the city, and even did some working out in the evenings when the temperature dipped below 90 F. It's been an eventful summer in many respects - I came here to reconnect with my family and culture, and to learn my father's language, and I'm leaving with a much deeper understanding of the world on both a personal and political level.

The highlight of my summer, though, was getting to spend a day with Sana, a beloved forward of ours who has been away from Yale for a little while, off in the world making her way through what many Yalies call "real life". I spent most of our time together in complete awe of her maturity, composure, and of course her kindness of spirit. We got to talk about love, spirituality, and personal growth as we shared stories about life's adventures throughout the day over Turkish breakfast, çay, mantı, Turkish coffee, and, as pictured, a delicious chocolate dessert that was far too rich to finish alone. Looking forward to seeing you again, Sana, wherever in the world we may be!
Alina and Sana enjoying their time together
---
August 8th, 2016
Off the Pitch- YWRFC in the Community!
This summer, Lily and Mariana had a blast in the New Haven heat. As members of intensive summer programs, the rising sophomores each managed to lift at least 4 days per week, meeting up many times at Payne Whitney Gym. Eli was based in NYC working on community projects for LGBTQI+ human rights.
Lily's Summer:
As a summer fellow at the Yale Center for Engineering Innovation and Design (CEID), Lily worked on a student venture called VIP Transplant, a telemedicine app that provides a virtual interactive platform for post-kidney transplant patients at Yale New Haven Hospital. She and her team surveyed numerous patients and providers, developed the app, and started a pilot study last week. They hope to publish a clinical research paper in August. Lily is glad that she was able to learn Swift (the iOS programming language), navigate the healthcare maze of HIPAA regulations, and get to know the other teams in the CEID Summer Fellowship!

Lily's telemedicine application:
Mariana's Summer:
As a participant of the STARS research program, Mariana worked in a biomedical engineering lab that studies the genetic heart disease, Hypertrophic Cardiomyopathy. Her project specifically involved creating a program to relate the amount of protein to some of the symptoms of this disease. On top of lab work, the STARS program also included a writing class where Mariana was taught how to write and present her scientific research. Mariana is excited to continue research in biology at Yale.
STARS 2016
Lily and Mariana enjoying some downtime at the beach
Eli's Summer:
I spent my summer in New York City at the Astraea Foundation for Justice working as a Program Team Intern. I was fortunate enough to have a front row seat to the work that goes into providing millions of dollars of grants to organizations across the world fighting for LGBTQI+ human rights. My work ranged from skyping with activists in Kenya to putting together US grantee dockets, there was truly never a dull day in the office. However, the best part of my internship was getting to work with compassionate, driven and intelligent colleagues, some of whom are planning on coming to watch YWRFC play Columbia this September! When I wasn't working I was running around the city and taking full advantage of all it had to offer. In June, I marched/danced down 5th avenue on a float in the Pride parade. In July, I got lost in the Met, joined protests against police brutality and had the best pizza of my life in Clinton Hill. As the summer comes to a close, I'm looking forward to using August to relax with my family and gear up for rugby in the fall!"

Eli at the Pride Parade

---
August 5th, 2016
Off the Pitch- SGH and Michelle's Outdoor Adventures!
Yale Women's Rugby is brimming with fun, talented and adventurous young people. The 'Off the Pitch' series takes time to celebrate what the players have been up to away from training and playing rugby for Yale. Today we read about SGH's summer as a kayak instructor and Michelle's time leading the Girl Scouts and climbing.
SGH
"I have been in Vermont since the beginning of June working at a sleep-away camp. I'm a kayaking counselor, which means I get to lead trips to flat water and whitewater, and I'm also a tent-counselor to four amazing 16-year-olds. We held our own "Pokémon Go"-themed evening and my special powers were body slam and tackle so I got to run around using my rugby skills to knock down other counselors for the amusement of the campers. It felt almost like a rugby game!"

Michelle
"I just finished my internship with the Girl Scouts of Kentuckiana, where I spent part of my time working on a large Excel spreadsheet and part of my time as a camp counselor in western Kentucky. (The second part of my job was much more fun.) At Bear Creek Aquatic Camp, I learned how to sail, slept in a hammock for the first time, and was covered in shaving cream by my campers. And recently, some alum friends invited me to climb with them at Red River Gorge, so I went out there for a weekend. The mosquitoes were out in full force and the temperature was consistently in the 90s, but I had a great time."
---
August 4th 2016
Off the Pitch- Angela's and Serena's Summer trip to Britain
Yale Women's Rugby is brimming with fun, talented and adventurous young people. The 'Off the Pitch' series takes time to celebrate what the players have been up to away from training and playing rugby for Yale. Here is Angela and Serena talking about their time in the UK!
"This summer we went to London to take two classes--one on Victorian Fiction and another on Modern British Drama--through one of Yale's Study Abroad Programs. Whether in the classroom, at one of the nine theaters we visited, or on a group trip to the breathtaking countryside in York, we had a blast bumbling around and learning about British history and culture. We regret to say we have no pictures of ourselves eating fish 'n' chips or meeting the Queen. Serena did however discover a passion for British boy fashion. At any rate, a bloody brilliant time across the pond!"
Angela at the London Eye on a glorious British day and a picture of both enjoying the sights of stunning York

---
April 25, 2016
2016 Ivy 7s Championship
Natalie Wyatt passing to Mariana Rocha
Yale travelled to Princeton on April 23rd to play in the final tournament of the spring season. Yale were drawn against varsity powerhouses Brown and Harvard in the group stages. The team dug deep against both teams but lost 29-0 on both occasions. Yale saw plenty of ball and pieced together fine passages of play but it was the opposition's pace and power that made the difference each time. Unfortunately Yale lost their own speedster, Michelle Jones, to an injury early in the day that limited the attacking threat.

After the two previous losses, the team moved into the plate semi-final against fellow club team Columbia. Columbia came out the blocks firing with an aggressive defensive line speed. Despite the pressure, Yale maintained their composure and put together multiple phase plays to tire out Columbia's defense. The ball was moved along the line to Alex Mayo, who drew the last defender to release Becky Connelly down the left wing. With over 70 meters to go, Becky backed her speed and fitness to race under the posts to make it 5-0 to Yale. Yale continued to dominate possession and the pressure resulted in Lily Wu making a great midfield line break. A desperate Columbia defender managed to hold onto Lily but Yale's quick support play and passing saw the ball moved to Alex Mayo, who cut a great line to slice the Columbia defense and score under the posts. 10-0 Yale. The final Yale score of the match went to the in-form Nat Wyatt. The opportunity came from fantastic team defense that created a turnover. The ball was quickly moved to Nat who charged at the Columbia line to make a clean break to the try line. Final score 15-5 to Yale.
The plate final was against University of Pennsylvania (UPenn). Yale completely dominated possession during the game but it was UPenn that took the win 20-5 on the day. Despite the possession, Yale lacked the killer injection of speed when the UPenn defense was under pressure. Full credit must go to the opposition as they took their chances with breakaway tries when they got the opportunity.
Overall, Yale's play demonstrates how far the team has come along this season. Coach Wilson commented, "It's important we keep an eye on performance, as opposed to the result. The players' understanding of the game was fantastic and they really put together some great tactical play. Sevens is a very unforgiving game where one mistake usually is the difference from scoring a try to 10 seconds later conceding. At this level it tends to be the team with a few more speedsters that takes the win." Coach continued, "I was really pleased to see seniors Alex and Becky score today. Judging by the smiles on their faces, it's safe to say they will be leaving on a high!"
Match highlights below

---
April 18, 2016
Yale Rugby Weekend a Huge Success
Alumnae and Undergraduates post match
The 2016 Yale Rugby Weekend was an event to remember with 160 players, coaches, alumni, family and friends present to celebrate Yale rugby.
The weekend started off with a very informative mentoring session, where the alumni were on hand to answer career questions and give advice to the current undergraduates. The mentoring program has already seen three undergraduates receive internships as well as one full-time position post-college. From the women's section, Samara Fox '09, Martine Powers '11, Yoshi Shapiro '11 and Katie Chockley '14 offered valuable insights into their experiences.
Martine '11, Yoshi '11, Samara '09 and Katie '14 at the mentoring event
In glorious weather on Saturday afternoon, the women's undergraduate team played two 7s matches against the alumnae. Both games were extremely tight and played in fantastic spirit but it was the experienced alumnae team who edged both games. The standard of rugby was very high with both teams scoring beautifully-constructed tries. In the end, it was the alumnae team (many of whom play weekly competitive rugby) who boasted a bit more strength and power to see off the tenacious undergraduates.
In the evening, the action moved indoors for the awards dinner held at the beautiful Commons banquet hall. The guests were treated to speeches from both the men's and women's alumni, including a passionate speech from Yoshi Shapiro '11 on her amazing time with YWRFC. The speeches were then followed by the 2015/2016 playing awards. To a huge reception, the winners were announced as:
Club Person of the Year: Hanna Miethner (Left)
Most Improved Player: SGH (Right)
Player of the Year: Serena Lau (Middle)