September 24th, 2018
12 Try Yale Start Strong in Ivy Opener
Yale opened their 2018 Ivy League campaign with a comprehensive 68-20 victory over University of Pennsylvania. Yale's try scorers were Roxanne Harris '21 (4), Debbie Dada '21 (3), Jackie Qiu '19 (2), Amelia Linnett '21, Abby Davis '19 and Reanna Wauer '20. Debbie added four conversions. Yale also fielded six new players who were experiencing their first Ivy League action.
Yale now turn their attention to Columbia, in New York City, on 9/29, 12.30pm. The match will be played at the Baker Field Complex, Kraft Field at Wien Stadium (533 W 218th St, New York, NY 10034).
Roxanne Harris
---
Yale Defeat Southern in Pre-Season Match
Yale hosted neighbors Southern Connecticut State University in a pre-season matchup. In a traditionally tough game against Southern's large players, Yale was smothering in defense and fast in attack. Yale's tries came from relentless defensive sets, continually stopping Southern's attack again and again. When Southern conceded possession to Yale, fast movement of the ball broke down Southern's defensive line creating space for Yale to exploit and score. The match also marked five new players being introduced to rugby for the first time.
Final Score:
Yale 36 Southern 30
Scorers:
Debbie Dada (1 Try and 3 Conversions)
Amelia Linnett (1 Try)
Abagail Davis (2 Tries)
Cassandra Darrow (1 Try)
Roxanne Harris (1 Try)
Yale's next action will be against the University of Pennsylvania, at home, on September 22nd, 1 pm KO.

---
July 31st, 2018
Athletic Trainer Job Posting
Yale Women's Rugby is opening applications for the role of Athletic Trainer to join our medical team. For full details below.
Athletic Trainer
Women's Rugby Athletic Trainer
Reports To
The Athletic Trainer will report to the Director of Rugby, Greg McWilliams and Women's Head Coach, Craig Wilson.
Job Overview
Develop, coordinate and administer a comprehensive sports medicine program for Yale Rugby. The Athletic Trainer will also perform professional and administrative services essential for the successful implementation and development of the program.
Responsibilities and Duties
Develop injury prevention programs, injury evaluations, injury management, injury treatment and rehabilitation and educational programs
Provide athletic training services for Yale Rugby, including attendance at scheduled team practices and home and away competitions as necessary
Coordinate and schedule physical examinations and medical referrals for student-athletes to determine their ability to practice and compete
Work in conjunction with the strength and conditioning staff to ensure safety in the design and implementation of fitness, nutrition and conditioning programs customized to meet individual student-athlete needs

Qualifications

Education: Bachelor's degree in an appropriate area of specialization and 1-2 years professional experience. Master's degree preferred.

Experience: 1-2 years of professional experience.

Certificate/License: State Athletic Training Licensure, Familiarity with NCAA, NAIA or NJCAA governing rules.

Job Type

Part-Time, $35/Hour


Candidates send resume to Director of Rugby, Greg McWilliams at greg.mcwilliams@yale.edu
---
June 18th, 2018
YWRFC Heading to Collegiate All-American Assembly
Senior, Cassie Darrow, has been invited to attend the Collegiate All-American (CAA) assembly being held at Dartmouth College from Tuesday, June 19th to Sunday, June 24th. The camp is an opportunity for selected athletes to impress the national coaches as preparations for the 2021 Rugby World Cup intensify. Additionally, the coaches will be looking to develop a wider pool of players that are projecting to represent USA in the coming years.
Cassie's rise has been monumental, having only played rugby for six months. Although still in her formative years as a player, Cassie is an exceptional athlete with excellent evasion skills. Combined with a steely determination to master new skills and work hard, Cassie's future is bright. On Cassie's selection, Coach Wilson commented, "Cassie fully deserves to be heading to the CAA camp. She is one of the most naturally gifted players I have seen but more importantly is always seeking opportunities to learn and improve. Cassie will have the opportunity to mix with the best players in the nation at this age level and will be better for the experience."
Cassie will be joined at the camp by Coach Wilson, who continues his role as Performance Analyst for the CAA's. Coach Wilson is tasked with providing detailed insight, data and statistics to both the coaching team and players. On his role with the CAA's, Coach Wilson commented, "It is a privilege to be asked to continue my role with the CAA's. Not only am I working with the best players in the nation, these are the players that will be representing USA at future World Cups and Olympic Games. I am honored to be playing my part in the players' journey and helping them achieve success on the world stage. Personally, I enjoy working with the national team coaches and learning from them. All this experience will be brought back to Yale to improve our program!"
Along with Cassie and Coach Wilson representing USA teams, Director of Rugby, Coach McWilliams, is the current attack coach for the USA Men's national team. USA recently made history by beating a Tier 1 rugby nation (Scotland) for the very first time.
---
June 6th, 2018
All Blacks, Chiefs, Training and More!
Debbie and Ann's update from New Zealand
Week 1 (By Ann Chia)
For the first week of our trip, Debbie and I volunteered our time at Hamilton Girls' High School. We observed classes and discussed student life, college application, and sports culture at Yale. We also joined the HGHS girls for rugby practice and observed their game plays. Later in the week, we joined the Waikato University Women's Rugby team for training, though that was conducted indoors due to the weather conditions. For cross-training, Debbie and I participated in spin classes and lift sessions using the University of Waikato facilities.
Week 2 (By Debbie Dada)
We began the week practicing skills with a St. Paul's Collegiate coach, Paul Hodder, who has been incredibly helpful with improving our footwork and passing. We've continued with high-intensity workouts including spin classes, boxing, training with the University of Waikato's varsity team, cycling in a velodrome and hiking up Hakarimata as well as Mount Pauanui.
We got to spend some time with the Hamilton Super Rugby team, The Chiefs, which has some players who also play for the New Zealand All Blacks. Not only did we get to attend their back-to-back home games, we had the pleasure of meeting them at a full team practice and training with one of them!
Additionally, we had the opportunity to see quite a bit more of the region visiting the beautiful coastal cities Raglan and Pauanui. At a wildlife conservatory, we saw the famous Kiwi birds as well as lots of other creatures indigenous to New Zealand. We also had great fun luging with a great view of the picturesque New Zealand Landscape and spending time at a trampoline park.
---
June 4th, 2018
Genevieve Simmons To Play Rugby in Hong Kong
Graduating senior and 2017/18 Player of the Year Genevieve Simmons is moving to Hong Kong to play for Sandy Bay Rugby Football Club and work as an English Teacher in a local high school. Genevieve joined the program as a senior, but her talent was immediately evident and her competitive spirit was an inspiration to her teammates.
When speaking about her time with YWRFC, Genevieve said, "Yale Rugby, to me, means community and commitment to something larger than yourself. It's also a space where I felt empowered as an individual to push myself and excel at a sport that relies on hard work and determination. Even though I came late to the game, I immediately felt at home on the pitch and with the contact and hard running."
On moving to Hong Kong, Genevieve continued, "My goal is to further develop my technical skills and see how far I can go! For this reason, I'm moving to Hong Kong, as there I can incubate my rugby passion and knowledge, starting by playing for Sandy Bay RFC that Coach Craig put me in touch with. I will also be teaching English at a local high school through the Chatteris CNET program."
YWRFC also caught up with Chris Garvey, Head Coach of Sandy Bay RFC to find out more about the club and Genevieve's move.
What is your role with Sandy Bay RFC?
I am the Head Coach of the Senior Women's 1st XV whilst overseeing all aspects of performance and development within the women's game from Under 10's - Over 60's.
What are your goals for Sandy Bay RFC?
To create an environment where every player can come to improve, challenge themselves and work with others. Through this, we develop on the pitch, through developing on the pitch we win more games, through winning more games I aim to see the club develop into one of the strongest teams in Asia.
What are you most excited about for Genevieve's move to Sandy Bay RFC?
There isn't one answer for this, I'm excited to support someone who wants to improve and play rugby. I'm excited to support our first 'import' or female athlete to continue the growth of the club. I'm excited to develop links with Yale University and see how we can support each other in the future. I'm excited to see Genevieve put on a Sandy Bay jersey and join our family! Additionally, I am excited about the cross-collaboration between Sandy Bay and Yale. We have talented and hard working mini and junior section (under 19s and below) who will have players applying for Universities in the near future and we would love for them to apply to Yale!
From everyone at YWRFC, we wish Genevieve the best in Hong Kong and we look forward to seeing her back in New Haven as an YWRFC alumni in the future.
---
West Coast Alumni Event, San Francisco, Saturday, July 21st
YWRFC is pleased to announce that there will be an alumni event in San Francisco on July 21st. The event coincides with the Rugby 7s World Cup being held that weekend at AT&T Park, San Francisco. Our main event will be on Saturday, July 21st, with additional smaller events. More information can be found by following the link below.
Event Details:
Saturday, July 21st from 11am-3pm at Esprit Park in the Dogpatch in San Francisco http://sfrecpark.org/destination/esprit-park/. This is 1.5 miles from AT&T Park.
For questions, contact Katie Planey '09 (Event Coordinator) katie.planey@gmail.com or Craig Wilson (Head Coach) craig.r.wilson@yale.edu

---
New Zealand Rugby Experience For Two Yale Players
Debbie Dada (pictured left) and Ann Chia (pictured right) leave for New Zeland this Friday. The trip is part of Yale Rugby's summer exchange program designed to offer our players an opportunity to live, work and play rugby in Hamilton, New Zealand. The link has been established with St Paul's school, where the men's program has visited for the last four years. This is the first year that YWRFC players are part of this exciting program. We caught up with Debbie and Ann before they fly to New Zealand.
What rugby experiences are you looking forward to?

Debbie: I am really interested in taking part in the fitness and conditioning element of the program. I didn't really participate in any weightlifting or anything in my high school rugby program but have really enjoyed it here at Yale so I look forward to improving in that regard.
Ann: I am excited about the cross-training aspect of this trip. It's not something I've had a chance to do before, and I want to see how it complements rugby-building skills. I'm also looking forward to having more game time and playing with people from different training backgrounds. I believe that this experience will diversify my on-field and off-field skills.
What cultural experiences are you looking to gain from the trip?
Debbie: My study of anthropology for the last few years has greatly increased my appreciation for diverse cultures and so I look forward to learning and experiencing many of the distinct foods, arts, and traditions of Hamilton, New Zealand.
Ann: I am hoping to connect with rugby players from different cultural and training backgrounds. It would be interesting to see how cultural background influences playing styles and team dynamics. I am also very eager to connect with a host family to experience first-hand the different ways in which different people live.
What does Yale Rugby mean to you?
Debbie: Yale Rugby's greatest asset is the people. From the kindness and support from the team and coaches when we make mistakes, to the fun socials and mixers. The leadership has truly fostered a positive, inviting and warm atmosphere that I have benefited from greatly.
Ann: Yale rugby has been a world of opportunities for me. Through all my experiences on and off the field, I have learned and grown as a player and teammate. Even more so, I am grateful to have formed lasting friendships with the Yale Rugby team and its coaches. To me, Yale Rugby is connection, and it is a home away from home.
Debbie and Ann will be providing regular updates about their experiences as the trip progresses.

---
April 25th, 2018
2017/18 End of Season Awards
Genevieve Simmons, Player of The Year, highlight video
YWRFC would like to congratulate Genevieve Simmons '18 for winning Player of The Year, Maslen Ward '20 for winning Rookie of The Year and Mara Hoplamazian '20 for being award Teammate of The Year. This past year, Yale also introduced 14 new players to rugby. Both the fall and spring seasons were a great success on and off the field, with the team setting a strong foundation as they move into the 2018/19 season.

---
April 22nd, 2018
Yale Takes 2-0 Series win Over Fairfield University
Yale's final match-up of the season was against local neighbors, Fairfield University, in a two-match 7s series. The games were part of Yale Rugby's celebration weekend. Yale, who were determined to showcase their attacking style of play in front of a large crowd, did not disappoint taking the first game 24-10 and the second game 44-0. Both victories were built on strong defensive plays and ruthless attacking instinct, scoring 12 tries and conceding only two tries over both games. Overall, it was a fantastic team performance lead by influential senior Elisia Ceballo-Countryman '18, playing in her last game for YWRFC. The MVP for the day went to Cassie Darrow '18, who worked tirelessly in attack and defense whilst showing her high skill level and athleticism to score six tries.
Roster:
Amelia Linett '21 (1 try)
Ann Chia '18
Cassie Darrow '18 (6 tries)
Debbie Dada '21 (2 conversions)
Elisia Ceballo-Countryman '18 (3 tries, 2 conversions)
Maslen Ward '20
Miki Cornwell '21
Natalie Irwin '20
Jacki Qiu '19
Roxanne Harris '21 (1 try)
Sarah Mele '19 (1 try)
Most Valuable Player: Cassie Darrow '18
---
April 17th, 2018
Yale Rugby Celebration Weekend
As part of the Yale Rugby Celebration weekend, YWRFC will be playing a two-match 7s series with Fairfield University. Game 1 will kick off at 1.00pm, with game 2 starting at 2.45pm. After the matches, the festivities will move into the tent where there will be an award presentation, senior sendoffs, and a BBQ. All alumni, friends, and family are invited to join the fun! The full breakdown of the weekend and details can be read below.
To sign up for each event and/or to donate towards the various activities, please click here.

WEEKEND SCHEDULE:
FRIDAY, 4/20:
9.00 AM: Yale Alumni Rugby Golf Scramble/Lunch, Yale Golf Course (Optional: Hole Sponsorship $200, Yale Rugger caddy fee $50) Call/e-mail Coach Greg for sponsorship details: 203.909.2458, greg.mcwilliams@yale.edu )
5:30PM-7:00 PM: Alum/Undergrad Mentoring Session, Linsley-Chit Hall, Room 102 (Old Campus)
7 PM-11 PM: "Kick-Off Welcome Reception" @ Cask Republic;179 Crown Street, (Food & drinks a la carte)
SATURDAY, 4/21:
9 AM-10 AM: "A Celebration of the Life of Coach Malcolm Cormack" @ Payne Whitney Gym, Trophy Room
11:00 AM: Gather at Yale Rugby Pitch, (corner of Central & Derby Ave. to get jerseys, taped, & loosen-up)
Tailgating Lunch & Full Bar in Tent @ Yale Rugby Pitch:
Noon: NOBs vs. Yale Grad School (20 min. halves)
1:00 PM: YWRFC vs. Fairfield (7s)
1:30 PM: "The Wallbridge Wager" young alums play Yale Development Side players (30 min. halves)
2:45 PM: YWRFC vs. Fairfield (7s)
3:00 PM: "NEMEC CUP", Yale "A" Side vs. Fairfield University for Inaugural (35 min. halves)
4:30-6:00 PM: Post-match hospitality @ the event tent (showers available at Payne Whitney Gym)
Annual Awards & Merriment:
6:00 PM-10:00 PM: In the tent: food, music, lights, heaters, A/V, (police security provided)
7:00 PM: Annual Awards
10:00 PM: Last rugby shuttle departs for campus
www.facebook.com/events/144085249576654/
www.facebook.com/groups/friendsofyalerugby/
FAQ:
What can I bring to the event?
Daytime: Sunscreen, cleats, rugby socks, dark blue/black rugby shorts, scrum cap. There is a full tailgate as part of the event, including lunch, ice, soft drinks, bottled water, beer, etc. (Bring umbrella/foul weather gear in case of rain), towel, soap, shampoo.
After 4 PM: Casual
What are my transportation/parking options for getting to/from the event?
Yale shuttle buses leave from Payne Whitney for athletic fields Saturday. New this year will be a designated "Yale Rugby" van to loop between Yale Rugby Pitch and the campus from 7:00 PM-10:00 PM (10 is the last departure from the pitch). Parking available along the street and by the pitch near intramural fields.
How can I contact the organizers with questions?
Jonathan Warner, jonathan@warnercommercial.com, 301.717.0911; Ralph Bosch, boschland@aol.com, 203.943.1569; Rick Bannerot, Rbannerot@gmail.com, 203.321.5013; or Coach Greg McWilliams, greg.mcwilliams@yale.edu, 203.909.2458
Are there ID or minimum age requirements to enter the event?
Open to all ages, but please note: University policy forbids serving alcohol to undergraduates/minors
---
April 15th, 2018
Yale Rally to Finish Strong at Ivy 7s Championship
Yale traveled to Princeton to compete in the 2018 Ivy 7s Tournament. Influential seniors, Eli Ceballo-Countryman '18, Cassie Darrow '18 and Genevieve Simmons '18 were unavailable, providing an opportunity for Yale's younger players to gain valuable experience in a highly contested and demanding tournament.
The first match for Yale was against Ivy League and National powerhouse Dartmouth. The Yale players, playing against varsity opposition for the first time, took the game to Dartmouth and at one stage took the lead 7-5 with a great solo try from first-year Roxanne Harris '21. Debbie Dada '21 converted. Dartmouth took advantage of some loose tackling from Yale and pushed the score out to 27-7. However, it was Yale who fought hard all game and deserved to finish the game with a try of their own. Again, it was Roxanne Harris '21 who took advantage of the open field and used her pace to out-flank the scrambling Dartmouth defense to score under the posts. Debbie Dada '21 added the conversion. Final score 27-14 to Dartmouth.
The next match was against Princeton. Yale's attacking game plan was stunted by uncharacteristic loose passing and knock-ons. Princeton took full advantage of Yale's lack of possession forcing Yale to work tirelessly in defense. The pressure mounted on Yale, with Princeton running away with the game 32-0.
Yale took time to re-group and prepare for game three against Penn. With a focus on ball retention and a connected defensive line, Yale took the field determined to get back to winning ways. The game was a tough contest, made even harder when Amelia Linett '21 received a yellow card as a result of two team offensives in a row. Penn took a 14-0 lead going into half-time, but it was Yale who controlled the second half. The great defensive pressure created a Penn fumble on their own line, and on-field captain Mara Hoplamazian '20 reached the ball first to score a try. Yale continued to control possession, and it was great offloading and ball movement that eventually put Mara Hoplamazian '20 into the corner for her second try of the game. Despite the final score of 14-10 to Penn, Yale was back to playing positive attacking rugby.
Yale's rollercoaster day continued in their fourth match versus Columbia. Similar to the Princeton match, Yale was unable to maintain any possession and Columbia took full advantage. In a frustrating display for the team, Yale lost the ball on nearly all possessions, which resulted in Columbia taking the victory 22-0.
Yale, more determined than ever to finish strong, took on Cornell in their fifth and final match of the day. With a focus on controlling the ball and making the Cornell defense work hard at the end of a long tournament, Yale was able to play with the attacking style they have been practicing all spring. Yale's determination and focus paid off and the team strung together some fantastic phases of play, resulting in a 29-0 victory. Amelia Linett '21 was first to score, and then it was Yale's MVP Roxanne Harris '21 who added four tries of her own, taking her tournament tally to six tries overall. The victory was a fitting way to finish the Ivy 7s tournament.
The day was full of positives and also highlighted a few areas to work on as the squad continues to develop. The team spoke afterward of how important it was that resilience was shown by every player, particularly after the Princeton and Columbia matches, to learn from their mistakes and come back stronger each time.
Dartmouth went on to win the tournament, defeating Harvard 29-0.
Roster:
Ada Griffin '21
Amelia Linett '21 (1 try)
Ann Chia '18
Debbie Dada '21 (4 conversions)
Ellie Morley '18
Mara Hoplamazian '20, Captain (2 tries)
Maslen Ward '20
Miki Cornwell '21
Natalie Irwin '20
Jacki Qiu '19
Roxanne Harris '21 (6 tries)
Most Valuable Player: Roxanne Harris '21
Yale's final outing of the season is a two-game series versus Fairfield University at home on Saturday, April 21st. The match-up is part of the annual Yale Rugby Weekend. More information about the day can be found here: http://www.yalerfc.com/yale-rugby-weekend/
---
April 8th, 2018
Yale Take Princeton Series 2-1
Yale traveled to New Jersey for a three-match series with Princeton. In the first matchup, Yale struggled to shake off the bus journey and came up against a very experienced and skillful Princeton team. Yale failed to get into the game with sloppy handling errors stunting any momentum. Princeton controlled possession throughout and made Yale pay for their mistakes, taking the victory 36-0.
Yale took the opportunity between games to regroup and reset goals for the next match. With a focus on possession whilst playing at a fast pace, Yale started the game with a great team try created from a powerful run by Maslen Ward '20 on the right wing who offloaded to on-field captain Mara Hoplamazian '20 who calmly drew in the last defender to pass to Amelia Linett '21 who scored the try. In an almost identical play, Maslen Ward '20 once again broke away down the right wing after a fine offload by Debbie Dada '21. Mara Hoplamazian '20 was in support and a well-timed offload from the ground by Maslen Ward '20 allowed Mara Hoplamazian '20 to cross the line for a try. Yale continued to dominate possession and it was Maslen Ward's '20 midfield line break that set up a try for speedster Roxanne Harris '21 to finish the move under the posts. Debbie Dada '21 converted. Yale's final try of the game was scored by Roxanne Harris '21 who was put into space by Yale's fine handling and she raced away to score. Final score 22-12 to Yale.
With confidence brimming from the previous match, Yale entered the third and final game looking to continue their high-intensity attacking play. It was Cassie Darrow '18 who was first on the score sheet by showing her athleticism to side-step through the Princeton defense line and speed away from 80 meters. Debbie Dada '21 converted. Yale's second try was the ultimate team try (video above), all players contributed to the score with a mixture of hard running, offloading, quick rucking, passing and speed. The play was started by hard-running Maslen Ward '20 who broke the line and left three Princeton defenders scrambling to tackle her. A neat offload to Ellie Morley '20, playing in her first ever match, sped away to further dent the Princeton line. Quick ball recycling and ball movement led to Roxanne Harris '21 breaking away. In a last-ditch tackle by the Princeton sweeper, Roxanne Harris '21 offloaded under pressure to Debbie Dada '21 who then offloaded to Amelia Linett '21 that finished off this superb team try. Debbie Dada '21 converted. Maslen Ward '20, who was a standout performer for the full series, was on-hand to score Yale's third try, rounding off some fine offloading work by Roxanne Harris '21 and Mara Hoplamazian '20. Debbie Dada '21 converted. Princeton fought back with three tries of their own but the final and match-winning try came from some fine individual work by Cassie Darrow '18, who cut through the Princeton defense line, rounded Princeton's final sweeper and raced away from 60 meters to score. Debbie Dada '21 converted. Final score 26 -19 to Yale.
Roster:
Amelia Linett '21 (2 tries)
Cassie Darrow '18 (2 tries)
Debbie Dada '21 (4 conversions)
Ellie Morley '20
Genevieve Simmons '18
Mara Hoplamazian '20, Captain (1 try)
Maslen Ward '20 (1 try)
Natalie Irwin '20
Jacki Qiu '20
Roxanne Harris '21 (2 tries)
Most Valuable Player: Maslen Ward '20
Yale's next outing will be once again at Princeton on April 14th, where they will compete in the Ivy Championships. Yale will look to use this event as another opportunity to develop their young roster.
---
April 1st, 2018
Spring 7s Season Commences
Yale welcomed friendly rivals, The University of Connecticut (UConn), to New Haven on a glorious spring day in New Haven to open the spring 7s season. The teams competed in a three-match series, with UConn winning two matches, and Yale one.

Game 1: Yale 17 UConn 33
The first game of the day was a try-fest, with Yale scoring three and UConn five. The lead swung on multiple occasions but it was UConn who had enough firepower in the tank to pull away from Yale. Yale's tries were scored by two first-years, Roxanne Harris '21 (playing in her second tournament) and Debbie Dada '21 along with rookie senior, Cassie Darrow '18 (first ever tournament).
Game 2: Yale 5 UConn 17
During the interval, Coach Wilson put an emphasis on connecting and moving forward as a defensive line as well as keeping the ball alive through offloads in attack. Although Yale conceded three tries, it was a vast improvement from the defensive play in the first game as UConn had to string multiple phases together to find the try zone. The attack had much more fluency and Yale created many more scoring opportunities. As seen in the video, Cassie Darrow '18 was again on hand to finish a fantastic attacking move, where all Yale players were involved.
Game 3: Yale 17 UConn 5
Yale's young squad were starting to feel more confident, which was demonstrated in the final game of the series. Yale outscored UConn three tries to one and put in a much more comprehensive defensive display. Yale also introduced three brand new players, Ellie Morely '20, Natalie Irwin '20 and Sarah Mele '20 for their first ever match experience. Yale's tries were scored by Ann Chia '18, Genevieve Simmons '18, and Eli Ceballo-Countryman '18.
To conclude the day, Yale hosted the UConn players for pizza where the opposing teams enjoyed each other's company after three hard-fought matches. Yale will now focus on a three-game 7s series away to Princeton on Saturday, April 7th.
---
March 2nd, 2018
2018 Spring Schedule Announced
YWRFC is pleased to confirm the 7s schedule for the spring term. First up for Yale will be a fixture at the University of Connecticut. This will be a step into the unknown for both programs as it has been many years since the teams have played each other. The second round of games will be against old friends, Princeton University, in a three-match series in New Jersey. This scrimmage will provide a valuable opportunity for the players to hone their skills as they approach the Ivy 7s Championship the following week, also played at Princeton, on April 14th. The final gameday will coincide with Yale Rugby Weekend, where Yale hosts Fairfield University. On the same day, there will be three men's fixtures, including the men's 1st XV versus Fairfield University.
Coach Wilson, commenting on the schedule, was pleased with the opposition teams, "This spring is an opportunity to play teams outside the Ivy League, whilst still ensuring we play against our college rivals. I am very excited to be taking the team to the University of Connecticut and then hosting Fairfield University. It is important that Yale plays local Connecticut teams in the spring to ensure we are exposed to different types of opposition whilst building strong and meaningful relationships to build collaboration in the future."
---
March 1st, 2018
5 Yalies Make All-Ivy Academic Team
The club is very proud to announce that Mara Hoplamazian '19, Maslen Ward '19, Debbie Dada '21, Michaila "Miki" Cornwell '21 and Amelia Linett '21 have been named in the All-Ivy Academic Team for 2017. In order to qualify, a player must appear in two Ivy Rugby Conference matches and maintain at least a 3.7 GPA. Selections were made by a vote of the 8 coaches of the Ivy Rugby Conference. YWRFC takes great pride in our athletes excelling both on and off the field. You can find the full list of names here.
---
November 20th, 2017
Valuable 7s Scrimmage with Southern

On a freezing Friday evening in New Haven, Yale and Southern competed in two 7s matches to round out the Fall season. This was a valuable experience for Yale's young team, as many players were playing 7s for the first time. The team will now turn its attention to skill development and strength and conditioning during the winter months.
Game 1: Yale 12 Southern 20
Game 2 Yale 17 Southern 17
Check out Yale's highlights!
---
13th, 2017
7s Matches To Finish Fall Season
To end a successful Fall season, Yale will be playing local rivals, Southern Connecticut University in two 7s matches on Friday 17th November, at Yale. This is an opportunity for the team to switch focus to the shorter format of rugby in preparation for the Spring 7s season. The games will be played under the lights and will be followed by the men taking on Harvard for their final xv's match of the season.
5.45pm: Yale vs Southern (Game 1)
6.15pm: Yale vs Southern (Game 2)
7.00pm: Yale Men vs Harvard Men (xv's)
---
October 30th, 2017
Yale Denied Championship By One Point
Undefeated Yale traveled to Penn (5-1) last Saturday in a game that would decide the championship. Yale needed one bonus point (scoring four tries or finishing within seven points of the opposition) to secure the championship. Penn needed to win by more than 7 points and score four tries. In the previous encounter, Yale took the victory 38-27.
Yale was unable to secure a losing bonus point in a 59-17 loss to Penn resulting in the team missing out on the Championship. Yale scored three tries, but a fourth was cruelly disallowed which denied Yale the vital bonus point. Yale, who had not played since September 30th due to forfeits from both Columbia and Cornell, was off the pace from the outset. A battle-hardened Penn team capitalized on some weak Yale defense to open up the lead which they never surrendered. Yale did fight back and looked threatening once they started to maintain possession. However, despite Yale's best efforts, the team could not find their way over the Penn line for the fourth try.
Although the team is disappointed, the season was a huge success. Yale finished 5-1 overall and introduced over 10 new players to rugby. The team now turns its attention to 7s.
Yale Scorers:
Ronnie Rodriguez '21 (2T), Genevieve Simmons '18 (1T ), Elisia Cabello-Countryman '18 (1C)
---
October 18th, 2017
Coach Corey Heads To Dubai 7s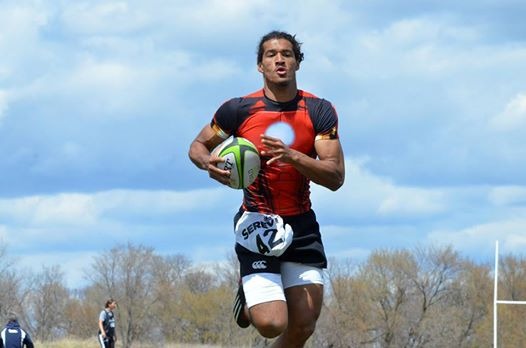 Assistant Coach, Corey Jones, will represent the Kukri Cobras in the men's elite competition that runs parallel to the HSBC World Series 7s event at the famous Dubai 7s. The Kukri Cobra Select will feature a number of players from the Northeast Academy as well as other U.S. programs. The team will play talented opposition including national teams from Belgium, Germany, Ireland, and Georgia, and developmental teams from Germany, France, and Canada.

Coach Corey, when asked about the trip commented, "I am excited to head to Dubai with the Kukri Cobras and compete against some of the best up and coming 7s players in the world. This is the next step towards becoming an Eagle." Speaking on behalf of the team, Coach Wilson added, "I am so pleased to hear about Corey's selection. He has added so much to the program already through his enthusiasm and energy. He is a great role model for the players and I wish him all the best with the trip."
Players: Corey Jones, Devereaux Ferris, Quaadir Brown, Jared Collinson, Chris Frazier, Chris Mattina, Harry Higgins, Robbie Butcher, Nick Laws, Andrew Murray, Wesley Pooley, Ryno Benjamin.
Competing teams: Abu Dhabi Harlequins, Free Sevens, SA 7s Academy, The Royals, Monaco Invitational, Canada Maple Leafs, Zambia, Belgium, France Development, Froggies, Germany Development, Germany, Ireland, Old Georgians, Georgia 7s

Article adapted from www.thisisamericanrugby.com
---
October 13th, 2017
Cornell Forfeit Match With Yale
Sunday's fixture has been canceled due to Cornell being unable to field a full team. Although disappointed not to play, Yale will take the opportunity to focus on training in preparation for Penn, away, October 28th. Yale receives an automatic 28-0 victory, and 5 conference points.
---
October 11th, 2017
Alum of The Week
Mary Cardoza (Class of 1983) played Prop for Yale after rowing her freshman year. She went out for the team and "fell head over heels in love with the sport." After playing for YWRFC her remaining three years, Mary played for UCLA during her first two years of med school.
Mary's favorite memory was playing up at Dartmouth while it was snowing. She wonders what it's like not to have a keg on the sidelines. As a General Surgeon, Mary believes that toughness was the most important thing rugby taught her: "I'm not sure that I would have been able to put up with the rigors of my training and the constant message that maybe I shouldn't be doing a man's job if I hadn't played rugby."
Rugby was one of the highlights of Mary's time at Yale, and we're so excited to collaborate with her for the upcoming YWRFC history exhibit!
---
October 6th, 2017
Columbia Forfeit Match With Yale
Sunday's fixture has been canceled due to Columbia being unable to field a full team. Although disappointed not to play, Yale will take the opportunity to focus on training in preparation for Cornell, who visit New Haven on Sunday, October 15th. Yale receives an automatic 28-0 victory, and 5 conference points.
---
October 5th, 2017
'The Rugby Breakdown' Yale Feature
Yale sits atop the Ivy Club standings, but the team has faced plenty of resistance during its 3-0 fall thus far. The Bulldogs outscored two opponents by one try each (with conversions pushing the point differential), and the team expects an equal amount of pressure in round two.
Yale began to recenter itself in fall 2015, when new head coach Craig Wilson relocated from Hong Kong, where he was involved with the national U14-U20 age grade teams, to New Haven, Conn. He joined a women's program that hadn't won an Ivy 15s game in three years.
"Upon arrival at Yale, it was clear that the team, for all their endeavors, lacked direction and had low numbers," Wilson recalled those early days. "I prioritized creating a compelling and attractive vision for the players to work towards. We shifted the mindset to focusing on the details we could control, such as the importance of hard work, increasing fitness levels and having fun. On top of that, I developed their rugby IQ by introducing tactical play supported with using video analysis and increasing the amount of rugby the team watched."
A foundation had been re-established, and Yale went 5-2 that season to win the Ivy Club division.
This year's team is of modest size - 24 registered players - but it's the youth of the squad that draws interest. Fourteen are rookies and four players are in their second season of rugby.
"The new players have certainly added to our overall athleticism, which is a core focus of the program," Wilson indicated. "We unfortunately lost both our captains to injury in the first game of the season, but this has created an opportunity for the other players to step up and lead. I am excited to see the progress of this group, which has huge potential."
The team started the fall with a 74-15 win over Columbia, followed by a 36-25 victory over Cornell, and then defeated Penn 38-27 last weekend. Penn sits in second place thanks to a 26-17 season-opening win over Cornell.
"Penn are well coached and have some talented players," Wilson reflected on the team's latest outing. "I believe our willingness to keep working hard to the final whistle was the difference in a very close game. We will have to go up another level if we are going to beat them again, especially away from home."
Genevieve Simmons leads all points scorers with 36 on four tries and eight conversions, while Elisia Ceballo-Countryman is close behind with 28 (4T, 4C). Ann Chia, Debbie Dada and Veronica Rodriguez have contributed three tries apiece this season, and Fatemeh Mojarradi and Sophie Freeman have crossed the try line twice each.
Columbia forfeited this weekend's match, and so Yale will resume play on Oct. 14 against the traditionally tough Cornell. Yale will then face Penn on Oct. 28 to end the season, and final standings will name league champion. A challenge match will then ensue between the Ivy Club champion and fourth-place team in the Ivy League (Brown, Dartmouth, Harvard and Princeton) for promotion/relegation in fall 2018. Additionally, a new initiative will see the Ivy Club champion compete in the USA Rugby DII playoffs this fall.
News courtesy of www.therugbybreakdown.com
---
October 1st, 2017
Yale Defeats Penn To Go 3-0
Yale maintained their perfect start to the season with a hard-fought 38-27 victory over second-placed Penn. Both teams were intent on attacking from all areas of the pitch, in difficult windy conditions, but it was Yale who had more in the tank in this thrilling encounter. Yale now turns their attention to Columbia, who travel to Yale on Sunday, October 8th.
Points Scorers:
Elisia Cabello-Countryman '18 (1T and 2C), Ronnie Rodriguez '21 (1T), Genevieve Simmons '18 (3T and 1C), Penalty Try

---
September 24th, 2017
Yale Down Big Red in Ithaca
Yale goes two from two on the road after defeating Cornell 36-25. Playing Cornell is always a difficult task due to their physicality, but Yale brought their own high-intensity levels, particularly in the last 15 minutes of the game to secure the win. Yale started the strongest and maintained a lead that was not to be surrendered. Cornell did get within striking distance on the 60-minute mark, only for Yale to re-group and pull away to victory. The team now heads back to New Haven to take on second-place Penn on Saturday, September 30th, 4.00pm.
Points Scorers:
Elisia Cabello-Countryman '18 (1T and 1C), Ronnie Rodriguez '21 (1T), Genevieve Simmons '18 (1T and 2C), Sana Mojarrdi 19' (1T), Ann Chia 18' (1T) and Sophie Freeman '18 (1T).
Hear from First-Year, Ronnie Rodriquez, who has now scored two tries in their first two games of rugby:
---
September 19th, 2017
Yale Dominate Columbia in Ivy Opener
Yale started the Ivy Season with a convincing 75-15 win over Columbia, scoring 11 tires and 6 conversions. The team consisted of nine new players. Yale now turn their attention to the away trip at Cornell on Saturday, September 23rd.
Points Scorers:
Debbie Dada '21 (3T), Genevieve Simmons '18 (2T and 4C), Elisia Cabello-Countryman '18 (2T and 2C), SGH (1T), Ann Chia 18' (1T), Khaya Klanot '20 (1T), Mara Hoplamazian '20 (1T), Ronnie Rodriguez '21 (1T).
Hear from Genevieve Simmons, who scored 18 points in her first ever rugby game:
---
April 28th, 2017
2017/18 Season Committee Announcement
The committee for the 2017/18 season has been selected by the current players. Team Captains will be SGH '19 and Reanna Wauer '20. Khaya Klanot '20 will take over as Treasurer, with Isabel Gonzalez '20 and Mara Hoplamazian '20 becoming Recruitment Chairs. Abagail Davis '19 and Kellyn Kusyk '20 will be Social Chairs. In a newly created role, Lola Hourihane '20 and Isabel Salinas-Arreola '20 will be Tour Managers.
SGH, commenting on their new role as Captain enthused, "I'm so excited to work with Reanna to lead this team I care so much about." Reanna added, "I look forward to helping develop and support our young team and to share this incredible sport with others."
When the committee members were announced, Coach Wilson was delighted with the appointed roles. Coach Wilson commented, "Our main aim for the program is to develop players to become world-class leaders. I see so much potential in this group and I am pleased to see young players taking on leadership roles. The majority of this committee still has three years of involvement with the team and it is going to be a pleasure watching their off-field development. I know this committee will drive standards, give 100% effort and will be determined to enhance the experience of all YWRFC members".
The program would like to thank out-going committee members, Lily Wu '19, Nat Wyatt '18, Emma Goldrick '17, and Michelle Jones '19 for their efforts throughout the season.
---
April 24th, 2017
Yale Rugby Weekend 2017
Over the weekend of April 21-22, Yale Rugby hosted the annual Rugby Weekend. The celebrations brought together the current undergraduate players, former players, coaches, parents and all friends of Yale Rugby. The busy weekend comprised of a golf tournament, a welcome dinner, three games of rugby and concluded in a spectacular gala dinner and awards evening.
On Saturday afternoon, YWRFC undergraduates and past players played in a combined rugby match. The match was hotly contested with the alumni, many of whom are still active players, demonstrating their high skill level and the undergraduates fiercely defending the pride of the program's new era.
The final event of the weekend was the gala dinner and awards evening held at Commons, right in the heart of Yale. The evening was an opportunity for former players and the current playing group to share stories and socialize. The highlight of the evening was the player end of season awards as well as an opportunity to thank the outgoing seniors.
Yale Women's Rugby Football Club would like to thank all that attended the very special weekend.
2016/17 Player Awards

Player Of The Year: Lilium Wu (Class of 2019)
Rookie Of The Year: Reanna Waurer (Class of 2020)
Teammate Of The Year: Lilium Wu (Class of 2019) & SGH (Class Of 2019)
---
April 11th, 2017
Boston University Win Yale Sevens
On a sunny day in New Haven that was perfect for rugby sevens, it was Boston University (BU) who won the second annual Yale Sevens. The path to victory was not without error, with BU's Boston rivals, Northeastern, winning the match between the two in pool play. BU recovered well with two victories over University of Massachusetts (UMass) and Yale respectively to set up the championship decider, and re-match, with Northeastern. The clash between the two Boston powerhouses lived up to the billing, and this time it was BU who took the win.
Yale finished the day 1-3, with their victory over UMass coming in the opening game of the tournament. Yale's young team played some fantastic rugby throughout the tournament and gained valuable experience against strong programs. You can view Yale's highlights below.
---
April 6th, 2017
Yale Sevens 2017
Yale Women's Rugby is excited to host the second annual Yale Seven's tournament on Saturday, April 8th. This year's tournament will see the University of Massachusetts defending the title they won in 2016. Northeastern will be returning for the second year and Boston University will make their first appearance at the tournament. To support the main tournament, there will also be B-Team matches that will be used to develop players. The format will see each team playing each other once, with the top two teams in the final standings advancing to the championship match.

All matches will be played at Yale University rugby field, located at 70 Central Avenue, New Haven. Entry is free.
---
March 24th, 2017
Coach Wilson To Support USA Women's Eagles
Yale's Head Coach, Craig Wilson, will be joining up with the USA Women's Eagles National Team for their two-test series with Canada in San Diego. The series is a crucial part of the squad's preparation for the Women's Rugby World Cup being held in Dublin this August. The USA are set to play England, Italy, and Spain in pool play. Coach Wilson will work directly with the analysis team where he will provide match data and player information to Pete Steinburg (Head Coach), Richie Walker (Attack Coach and USA 7s Head Coach), and Liz Kirk (Forwards Coach and former Eagle).

Coach Wilson, who is currently a member of the USA Rugby's Elite Coach Development Program, is excited to link up with the team, "This is a very exciting time for the national team as they prepare for the World Cup. Along with the Olympics, the World Cup is the pinnacle of the game. This CanAm series is a significant step towards ensuring a successful World Cup performance." When commenting on his role, Coach Wilson continued, "My main role is to work with the analysis team, headed by Caitlin Singletary, to provide the coaches with all the information they need to prepare the team effectively. Each practice and match are recorded and analyzed to ensure that there is no stone left unturned."
This is Coach Wilson's first assembly with the full national team, but he will utilize his experience as a player in international environments with Hong Kong, as well as coaching at four U20 Asian Championships and two U20 Junior World Trophies. Coach Wilson commented, "International assemblies are very intense with very little downtime. I really enjoy immersing myself in the environment and playing my part in making the team successful. It will be an honor to experience the USA Women's Eagles environment for the first time."
Coach Wilson also thanked Yale Rugby for their support, "There really is something special building with both the Yale Women's and Men's programs. To work directly with Greg McWilliams on a daily basis, along with the impressive board and other staff members, has been instrumental in my development as a coach. I am excited to return to Yale after the CanAm series and use the experience to improve my team."
USA are set to play Canada on Tuesday, March 28th and Saturday, April 1st at the Chula Vista Elite Training Center, San Diego.
---
Feb 9th, 2017
Mission Statement Announced

The program is delighted to announce the formation of a new mission statement, 'Creating World Class Leaders By Being World Class Teammates'. The mission statement emphasizes that student-athletes in the program will diligently work towards being the best teammate they can by adopting core values such as: selflessness, fulfilling any role required, giving maximum effort all the time, being relentless in finding ways to improve, being positive, not using excuses and having fun. Our vision as a program is to develop true leaders that, upon graduating from Yale, create positive change in their chosen field.
Coach Wilson believes the mission statement clearly outlines positive goals that all involved with the program can work towards, "This mission statement will be the foundation of everything we do. It will be our roadmap for continued improvement. It also provides clarity of what our program stands for. For new players, it explicitly states what our expectations are. It will be something all stakeholders will value, live by and reinforce regardless of performance outcome."

The team is currently preparing for the spring 7s season, with the finalized schedule being announced shortly.
---
Jan 17th, 2017
Players Return As Spring Semester Commences
After the festive break, the team will embark on a winter training schedule focusing on skill development, strength and conditioning, rugby education and team bonding. Commenting on the schedule, Coach Wilson noted, "The next two months are where a great deal of individual and team development takes place. As there is no pressure of preparing the team to play competitive matches, the environment is built upon developing technique and skill in a much more detailed way."
As well as on-field development, the team will work with new strength coach Steve Volek. Coach Volek, who also leads Yale Hockey's strength program, will be working in rugby for the first time but is excited at the new challenge. "I've watched rugby on TV and it's a very exciting and physical sport. The game necessitates that players are physically in good condition and I look forward to working with the team to ensure the demands of the game are met," he commented. Coach Volek's first involvement will be leading a series of tests to gauge the teams current strength levels which will be used as a benchmark for future testing.
---
Jan 5th, 2017
Coach Wilson Returns From Eagles National All-Star Camp
Over the New Year, Coach Wilson spent time with the Women's Eagles national coaches as part of the Elite Coach Development Program. His role at the camp was to work with the players as they start their preparation for the Rugby World Cup being held in Dublin in August. Commenting on the camp, he stated, "It was a great experience to be working with the best players and coaches in the US. I gained valuable experience in preparing a team for international competition with limited time. This is different from my day-to-day role at Yale where I have more time to develop the players," Coach Wilson added, "I am also proud that Yale is now being recognized nationally. The program has seen a huge rise over the last 18 months and I have no doubt that we will soon start producing players for the US national team."
The team returns to Yale on January 16th, where they will be focusing on strength and conditioning as well as skill development.
---
Nov 7th, 2016

Young Yale Go Down to P